beginners class Sept. 2021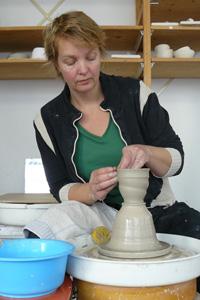 Pottery; it looks so easy and it seems so wonderful to do! Well, it isn't really easy, but you can learn it and it certainly is fun!
Hoeboer Pottery offers a structured lesson program, in which the basic skills of pottery are treated step by step. There is a lot of practice, both directly on the wheel and 'from the hump'. The finishing is also treated, that is to say finishing the bottom, the decoration and simple glazing.
This is a course for beginners, you do not need any previous experience.
At the moment we are closed due to the corona measures, but we assume that after the summer holidays, in September 2021 we'll be able to start again. With or without masks and 1.5 meter rule.
At our new location in 'De Hobbit', on the Joseph Ledelstraat in The Hague, a number of throwing courses for beginners will start in September. You can already register for these courses.
when:
Lessons last 1.5 hours, one course lasts 15 weeks. No class during spring and autumn holidays. Courses start every six months in September and January.
costs:
A beginners course costs & euro; 300, -. Tuition fees include materials, glaze, tools and firing.
A group normally consists of a maximum of ten students, but as long as the 1.5 meter rule is in force, the maximum is seven.